Who We Are
Our Team & Leadership
First Presbyterian Church is led collaboratively by a team of called leaders who work together to ensure we are doing our best to "cultivate hearts for Jesus from the heart of downtown." We believe that all ministry (paid and lay ministry) is a calling that comes from God, who empowers each of us to unique service according to our gifts and personalities. By working together, we maximize the potential of these gifts for Kingdom-building effort!
The Staff are paid individuals with unique gifts who work together to maintain the day-to-day operations of the church. The staff works together on everything from planning events to keeping the building maintained to organizing worship services & classes to all the behind-the-scenes tasks that keep our congregation moving.
The Session is a group of twelve elected lay leaders who represent the church as a spiritual "board of directors." Each of these elders work on a three-year term within a specific ministry team to ensure our mission and vision goals are being met and implemented. All ministry teams report to the Session via the work of these leaders. The Session meets monthly (or more frequently, if needed), and has the ultimate authority on all church decisions.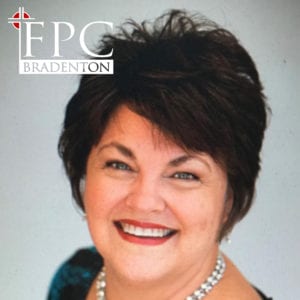 Amy Connours
Office Assistant
Amy lives locally here in Bradenton with her husband, Doug.They have been married 33 years and have three children and five grandchildren—all of which keep them very busy.  Sheholds a B.A. in Music from FSU, and also plays viola. Her business highlights include marketing and small business ownership (meaning everything from soup to nuts!)
She is a professional vocalist and
is currently serving as
the alto lead for Sarasota
'
s premiere professional ensemble,
Choral
Artists of Sarasota, and featured soloist for 
Choral Artists 
and 
Key
Chorale, Sarasota
'
s symphonic choir.
Amy is a frequent guest artist for
the
Sarasota Artist Series Concerts, has toured through Europe in
Spain, Ireland and Scotland, and most recently, the Baltic States.
On a side *note*, when Ted Hayes, our Director of Music Ministries, heard about Amy, he approached
her about joining the choir. Amy is thrilled to fill a soprano role as the section leader here at First
Presbyterian Church!
Personable and positive, Amy is a wonderful addition to our staff. Please extend her a warm welcome and come visit Amy at the church office from 1:00 to 5:00 pm!