Who We Are
Our Team & Leadership
First Presbyterian Church is led collaboratively by a team of called leaders who work together to ensure we are doing our best to "cultivate hearts for Jesus from the heart of downtown." We believe that all ministry (paid and lay ministry) is a calling that comes from God, who empowers each of us to unique service according to our gifts and personalities. By working together, we maximize the potential of these gifts for Kingdom-building effort!
The Staff are paid individuals with unique gifts who work together to maintain the day-to-day operations of the church. The staff works together on everything from planning events to keeping the building maintained to organizing worship services & classes to all the behind-the-scenes tasks that keep our congregation moving.
The Session is a group of twelve elected lay leaders who represent the church as a spiritual "board of directors." Each of these elders work on a three-year term within a specific ministry team to ensure our mission and vision goals are being met and implemented. All ministry teams report to the Session via the work of these leaders. The Session meets monthly (or more frequently, if needed), and has the ultimate authority on all church decisions.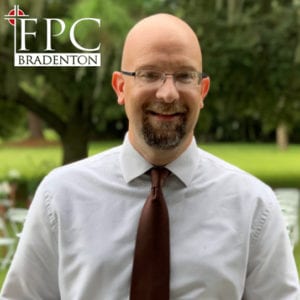 Larry Underwood
Family Ministries Director
Larry Underwood champions the vision for family ministry here at First Presbyterian. Larry graduated from Toccoa Falls  Bible College in 1996, majoring in music education and minoring in biblical studies. After graduating, he taught at Central Heights Christian School and also began managing a music store in Toccoa, Georgia.
While living in Toccoa, he met his wife, Jennifer.  They married in 1999, and in 2001 relocated to Habersham County, Georgia to focus on their growing  family.  Larry and Jennifer have three children; Levi(19), James(17), and Jessica(16).
Larry's call to ministry came after they started attending a small church plant (that eventually became one of the      larger area churches).  From 2001-2011 they served as bi-vocational student and family Pastors in Habersham  County. Larry's secular experience is split between education,  information technology, and management.  In 2011, they answered the call to full-time ministry in Bradenton, Florida, and have enjoyed their roles in family ministry, as well as Church revitalization.
Larry enjoys reading, running, photography, and vintage Volkswagens. Jennifer loves crafts, home projects, hiking, and spending time with family.
Both Larry and Jennifer have a heart for seeing families experience and understand the Gospel. They are excited to be part of the First Presbyterian Bradenton family and can't wait to see how God uses this Church to reach the unchurched.
Larry's personal blog page can be found "HERE"